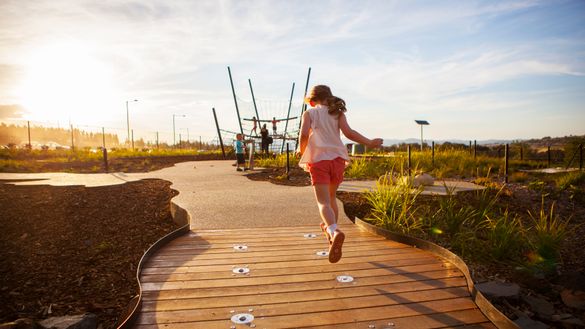 Explore Australia's award-winning national attractions in Canberra and let your children learn the stories that have shaped Australia.
Discover PlayUp's new exhibition at the
Museum of Australian Democracy at Old Parliament House
(MOAD) that in the name of democracy, takes play – and the rights of children, seriously. Listening pods, a fuzzy felt wall and a Kindness café are all part of the space, and during this summer the school holiday program will offer Open Air PlayUP with activities in the Senate courtyard. (Suitable for preschool and primary aged children)
Or take a journey across the Australian desert at the
National Museum of Australia's
Aboriginal-led exhibition
Songlines: Tracking the Seven Sisters
about the epic Seven Sisters Dreaming, or dodge sniper fire or peer through the periscope of a Cold War submarine at the
Australian War Memorial's
Discovery Zone
. (Suitable for children aged 8+ years)
Celebrate
Australia Day in the Capital
on 26 January with the ActewAGL Great Aussie Day Breakfast, kids entertainment, an impressive flyover, the National Flag Raising, Citizenship Ceremony and an evening concert with a fireworks finale. Or try the Australia Day Family Festival at the
National Museum of Australia
where you can enjoy Australian-inspired music, dance, demonstrations, games, craft and family fun. (Suitable for children of all ages)
For the drama queens, or kings
Indulge your little one in the whimsical New York SMASH HIT production of
Alice in Wonderland
, Lewis Carroll's timeless classic at the
Canberra Theatre Centre
these school holidays. Tumble with the Tweedle twins, chase the White Rabbit, boo the boisterous Queen of Hearts and have tea with the Hatter at the Maddest Tea Party of all! (Suitable for children aged 3+ years)
Climb to dizzying heights with
The 78 Storey Treehouse
, brought to the
Canberra Theatre Centre
by the team behind the 13-, 26- and 52-Storey Treehouses Live on Stage. Who will win the battle of Andy and Terry? And why are those mysterious spy cows turning up everywhere? (Suitable for children aged 3+ years)
Or join Mouse on a daring adventure through the deep, dark wood in the magical musical adaptation of the classic picture book
The Gruffalo
, by Julia Donaldson and Axel Scheffler. Will the story of the terrifying Gruffalo save Mouse from ending up as dinner for these hungry woodland creatures? (Suitable for children aged 3+ years)
Prowl, pounce and roarrrrrr!
Take your camera, your friends, and any burning dinosaur questions for a fun and educational journey back in time on a tour of the
National Dinosaur Museum
. Join guided tours with expert staff and get a hands on experience of doing real palaeontology. Learn about the different types of fossils, dig and catalogue real fossils, and earn a certificate upon completion. (Tours are free with entry; suitable for children of all ages)
Or send your little ones on a
Zoocation
at the
National Zoo and Aquarium
– a fun-filled day where kids can get up close and personal with many of the zoo's animals, play games, make toys for the animals and learn something along the way. (Suitable for children aged 5+ years)
Or dial up the experience and stay overnight with the whole family at
Jamala Wildlife Lodge
– the ultimate overnight safari and luxury lodge experience where you may even bathe beside a bear! You and your family will meet some of the most dangerous and endangered species on earth and learn how you can help their survival. (Suitable for children aged 6+ years with a responsible adult; children aged 4+ years are permitted to stay on dedicated "Family Nights")
Get crafty
Expect an abundance of creative fun at the
National Gallery of Australia
throughout the school holidays. The spell-binding
Hyper Real
exhibition will expand the minds of all your family, with a levitating man, a genetically designed baby and towering giants – welcoming you to humanity amplified. Children under 16 years get free entry, and there's a children trail, kids labels and a specially produced audio tour for younger visitors.
There's also a canvas full of workshops for kids as well including the Hyper Reality Body Parts workshop where kids can cast their own finger using silicone and other quality products, and a Guerrilla Upcycling workshop where kids will spend a full day exploring the work of contemporary arts Indonesian duo Indieguerrillas as inspiration for their own creative art making from upcycled materials and bike parts. (Suitable for children aged 8+ years)
Stop by the new
NGA Play
space, an exhibition where children can join the Indieguerillas on a culture journey through the stories of their homeland. (Suitable for children of all ages)
Or step across to the
National Portrait Gallery
for a myriad of family-friendly activities and workshops such as Portrait Play, Story Time, Cameraless Photography, Little Faces and Stars of the Silver Screen to name a handful. (Suitable for varying ages – see nga.gov.au for further details)
At
Canberra Glassworks
, there's a colourful selection of glass-making workshops on offer. Digital demons can create their own digitally-inspired image in glass in
special workshops
led by Nick Adams, who makes art inspired by the video games he used to play on his Nintendo GameBoy, or choose the
Summer Mosaics workshop
to learn the art of fused glass mosaics from internationally renowned artist Kirstie Rea. (Suitable for children aged 8+ years)
Unleash the inner scientists, inventor, designer or maker
Visit the
Colour
exhibition at
Questacon
- the National Science and Technology Centre
and turn a blue butterfly green, learn how pixels and paint differ, visit the Room of Missing Colours and hear fascinating stories from people who see colour when they hear music. Spend the rest of the day discovering Questacon's eight interactive exhibitions and 200+ hands-on experiences. (Suitable for children of all ages)
Or plan your visit around a
Questacon Maker Project
, where your junior creators can join in on half-day workshops and learn to make their own mini game, make an underwater machine and watch it explore the watery depths, launch a handmade rocket into space or lift weights on water! (Suitable for children aged 10-15 years)
Or to explore science in nature, immerse your budding scientists in an intriguing world of nature and discovery in the
Biodiversity Detectives School Holiday Program
at the
Australian National Botanic Gardens
. They can join grown-up scientists, rangers and species discovery experts for a unique day in the Gardens investigating the secret lives of bugs, reptiles, plants and more. (Suitable for children aged 7-12 years)
Climb, play, explore or sweat it out
Escape from suburbia and allow your kids to discover a stunning collection of Australian plants at the
Australian National Botanic Gardens
. The newly opened Paperbark Treehouse is a great place for the kids to climb and explore. (Suitable for all school aged children)
Or get the legs moving and discover aspects of Canberra's history and heritage with
free guided walks
by the
National Capital Authority.
Walks are available along Anzac Parade, Lake Burley Griffin, Old Parliament House and Reconciliation Place. (Suitable for children aged 6+ years)
For a climbing oasis and possibly one of Australia's best playgrounds, head to
Pod Playground
at the
National Arboretum Canberra
. The kids will have a blast hiding in the acorn cubbies, clambering across the climbing nets, making music in the banksia cubbies and slipping down the tube slides. Or book into a
kite making workshop
and watch your handmade kite soar high above the nation's capital.
For structured school holiday programs, the
Australian Institute of Sport
(AIS) offers a
Sports VacSports Vacation Program
, focussed on ensuring that children have fun, learn new skills, work as a team and keep active. They can learn tennis, soccer or cricket. For pre-schoolers, a modified program is available to suit the capabilities of younger participants. (Suitable for children aged 4+ years)
For a rainy day
Don't despair if your outdoor plans are upset by rain or sweltering temps – there are plenty of indoor options to keep your kids (or you) from crawling up the wall.
Go on a treasure hunt at the
Royal Australian Mint
and learn how all of Australia's circulating coins are made. Just pick up a copy of the My Visit to the Mint activity booklet from the front desk or shop and get exploring. Once you've completed the free activity booklet, be sure to make your own coin to commemorate your journey. You can also see real robots in action – wave to Titan, the strongest robot at the Mint, capable of lifting 1000 kilograms! Or enter the Coin Design competition for all visitors under 16 years who visit the Mint between 28 December 2017 and 5 January 2018. (Suitable for all school aged children)
To expend some energy,
Flip Out
is a great place to bounce the day away. With massive indoor trampolines, foam pits and ball games, the kids will be bouncing off the walls, literally. Or if climbing walls is more your thing, choose from Canberra's variety of indoor rock climbing centres including
Canberra Indoor Rock Climbing
in Hume and Mitchell, and
Blochaus Bouldering
in Fyshwick. (Suitable for all school aged children)
Or like to live life in the fast lane? Then take your junior adrenaline junkies to
Power Kart Raceway
, an exhilarating racing experience featuring world class electric go-karts on a Formula One style indoor circuit, plus an indoor glow-in-the-dark mini golf course, arcade machines and café. (Suitable for children aged 6+ years)
Traveloscopy
|