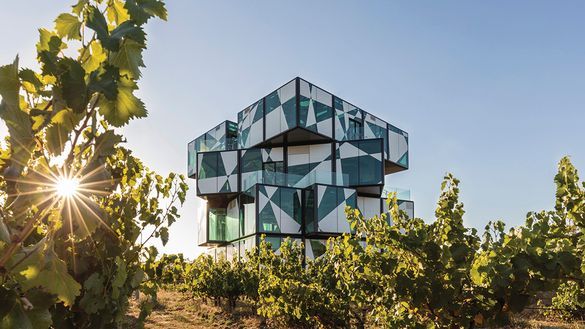 D'ARENBERG, MCLAREN VALE
With a dedication to "the art of being different", d'Arenberg, established in 1912, is one of the most significant wineries in McLaren Vale. Today, you'll find the cellar door in a beautifully restored 19th Century homestead, overlooking the Willunga Hills and Gulf of St Vincent. Adjoined is d'Arry's Verandah Restaurant with Head Chef Peter Reschke offering guests a quintessentially Australian dining experience.
Set to open in late 2017, The space-age d'Arenberg Cube is a five storey multi-functioning wine centre featuring several bars, a restaurant run by chef Brendan Wessels and private tasting rooms. Resembling an intergalactic Rubik's Cube, it will boast views overlooking the beautiful rolling hills of Willunga, the 19th Century homestead that houses d'Arry's Verandah Restaurant and the existing d'Arenberg cellar door.
Location: Osborn Rd, McLaren Vale SA 5171, 40 minutes' drive from Adelaide.
WIRRA WIRRA, MCLAREN VALE
McLaren Vale's Wirra Wirra is a James Halliday 5 Star Winery, famous for its Church Block Shiraz – the largest-selling red blend in its category in Australia. At the historic cellar door, a range of exclusive wines are available to taste while at the onsite providore, Harry's Deli, a menu overflowing with South Australian regional produce is available. With a philosophy revolving around fun, visitors are encouraged to declare war on their fellow wine-drinkers, hurling watermelons across a field using the winery's medieval siege machine.
Location: McMurtrie Rd, McLaren Vale SA 5171, 50 minutes' drive from Adelaide.
PENFOLDS MAGILL ESTATE, ADELAIDE
Nestled among Adelaide's foothills, just 15 minutes away from the CBD, Penfolds Magill Estate is the birthplace of Australia's most prized wine, Penfolds Grange. With a rich history dating back to 1844, Penfolds Magill Estate is home to a beautiful, heritage-listed winery and a labyrinth of underground tunnels and bluestone cellars. Magill Estate is also home to a fine-dining restaurant and kitchen, serving some of South Australia's most awarded cuisine.
Location: 78 Penfold Road, Adelaide SA 5071, 15 minutes' drive from Adelaide.
THE LANE VINEYARD, ADELAIDE HILLS
Down a quiet, winding country lane, over lush green hills lies The Lane Vineyard. Personifying the beauty of the Adelaide Hills, The Lane is a state-of-the-art winery, restaurant and cellar door, just over half an hour's drive from Adelaide's CBD. As one of the newest small batch single vineyard wineries in Australia, The Lane is fast proving itself as a force to be reckoned with, combining elegant cool-climate wines with a cutting-edge menu.
Location: 5 Ravenswood Ln, Hahndorf SA 5245, just over 30 minutes' drive from Adelaide.
JACOB'S CREEK, BAROSSA
Jacob's Creek is one of the country's leading wine brands, first launched in 1976 and named after a creek that runs through the beautiful Barossa Ranges. Jacob's Creek was originally founded by Orlando Wines with origins dating back to 1847. Today, the Jacob's Creek Visitor Centre is the home of the Jacob's Creek brand and is situated in South Australia's famous Barossa wine region. Here, you can take-in beautiful regional views, dig into award-winning food and sip legendary wine or combine it all with the full Sensory Experience.
Location: 2129 Barossa Valley Way, Rowland Flat SA 5352, just over one hour's drive from Adelaide.
SEPPELTSFIELD WINES, BAROSSA
With a legacy dating back to 1851, Seppeltsfield is an Australian icon, famous for its Centennial Collection: an unbroken lineage of Tawny, spanning every vintage from 1878 to today. Located in the Barossa, the Seppeltsfield Estate combines over 420 acres of vineyard, gardens and beautiful heritage-listed architecture. The cellar door is located in the 1900-built Seppelt Bottling Hall with four circular tasting pods and VIP mezzanine lounge. 2014 saw the addition of FINO: Seppeltsfield's multi award-winning restaurant, serving beautifully-crafted food, paired with a finely-balanced wine list.
Location: Seppeltsfield Rd, Seppeltsfield SA 5355, one hour's drive from Adelaide.
ST HUGO, BAROSSA
Located in the world-renowned Barossa, St Hugo honors the visionary winemaker, Hugo Gramp and is located within the ruins of William Jacob's winery, built over 150 years ago. Enjoy guided tastings, visits to the vineyard and bespoke experiences, along with specially crafted wine flights in the luxurious lounge and superb regional cuisine in the restaurant.
Location: 2141 Barossa Valley Way, Rowland Flat SA 5352, just over an hour's drive from Adelaide.
TWO HANDS WINES, BAROSSA
Two Hands Wines was founded in 1999 with the aim to make the best possible Shiraz-based wines from prized growing regions throughout Australia. Two Hands showcases the diversity of Australian Shiraz by highlighting regional characteristics and allowing the fruit to be the primary feature of their wines. Two Hands has grown to be a clear market leader and is now sold in over 38 countries around the world.
At the Barossa cellar door, guests can immerse themselves in unique, structured tastings. A range of tours are on offer, from luxury 4x4 expeditions to long lunches and and wine flights.
Location: 273 Neldner Road, Marananga SA 5355, one hour and 10 minutes' drive from Adelaide.
DESTINATION DINING IN SOUTH AUSTRALIA
Match world-famous wine with incredible dinner destinations, from pure white shores to lush fields and rich red earth. Follow your taste buds to adventure
Traveloscopy
|