#IPW18
How To Experience Unique Colorado Crafted Offerings Through Workshops, Tasting Rooms, Retail Spots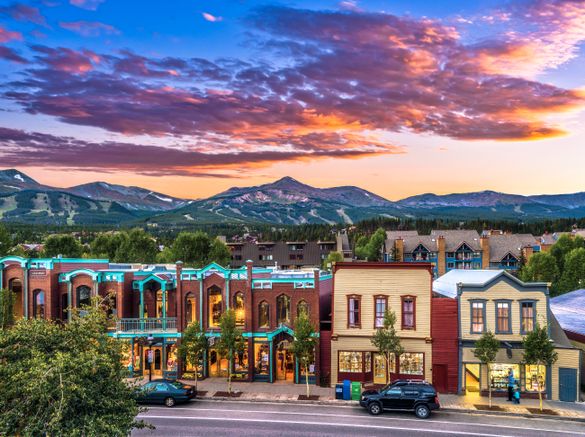 Denver, CO – The Maker's movement, in many ways, is a celebration of the feeling that comes with putting your mind and hands to work creating something: an idea, a piece of art, delicious food or healing remedies. And, it's no wonder that the movement is alive and thriving in Colorado. Curiosity and inspiration are bred by the Rocky Mountains, northern plains, and fruitful valleys that build the mosaic of the Centennial state. Find the maker in your during a visit to one (or many) of Colorado's unique maker businesses.
Find inspiration at the
Pikes Peak Makerspace
If you aren't driven to any particular craft but are drawn to idea of craftiness, the Pikes Peak Makerspace is the perfect place to wet your feet. In Colorado Springs, the Makerspace is a hub that brings together artists and engineers, entrepreneurs, designers and educators to mix their minds and visions and "revolutionize creativity". Visitors can tour the space every Friday from 10:30 am – 2:00 pm. Stay a while and sign on for classes like Mill & Lathe Operations, introductions to welding and metal work, and 3D printing for beginners.
It's all in the details: art of the craft at
DRAM Apothecary
Born of founder Shae Whitney's deep commitment to Colorado's wild terrain and a love of botany, food science, and ecological agriculture, the DRAM Apothecary in the sleepy town of Salida offers a line of products that are crafted using organic and wild Colorado herbs, foraged from nearby landscapes. Stop by the apothecary for a tasting, and then head home to see what crafty creations (cocktails or otherwise) you're inspired to create of your new bitters and syrups. Or, simply enjoy a cup of hot tea sent straight from the maker's hand.
Bring creativity to the catch: Fly-tying at
Peter's Fly Shop
In Fort Collins Colorado, sit down with a community of people who do what they love, and love what they do. Located at the northern edge of Colorado and butting up against Rocky Mountain National Park, the folks at St. Peter's are driven to craft their own wares and inspired by the never-ending learning associated with the challenges of the sport and the nearby access to renowned waters. And, they're available to teach you, too. Intro to fly-tying classes are available (on select dates) throughout the fall and into winter, and private fly-tying classes can be scheduled. Don't miss the opportunity to craft and then test your creation on one of St. Peter's many guided tours.
A labor of love: Cheesemaking at
Haystack Mountain
Join the artisan spirit of the maker's movement, and please your stomach to boot. Tours of the cheesemaking process are available Monday-Friday, 10 am – 4pm at the Haystack headquarters in Longmont, CO. Aside from tempting your pallet with some of Haystack's finest chesses— bloomy rind, fresh, Monterey jack, raw milk or washed rind—these tours offer a behind-the-scenes look at the creamery, an overview of economic fundamentals, and guided cheese tasting. Don't let the journey end there: take the making into your own hands with one of Haystack's "Art of Cheese" classes.
Spin Some Yarns with
De Goats N Sheep Ranch in Durango, CO
Spend the day with Wensleydale sheep and Angora goats, stay in the solar-paneled guest house, and put your hands to work at spinning lessons, watercolor felting lessons, knitting and beginning spindle spinning, carding or children's classes. Staying on site, you can pull inspiration from the texture of freshly harvested wool to the scent of pinyon and juniper on the 16-acre dryland pasture in Bayfield, CO.
All about the process at
Big B's Cidery (& Delicious Orchards)
From seed to spirit, Big B's Delicious Orchard makes their own cider, juice, vinegar and more. Follow the process by wandering and harvesting from the orchards, sampling juices and ciders, and taking the final product for some campsite enjoyment at the end of a nourishing day. The maker's movement is all about process, and visitors to Big B's can witness it from start to tart, delicious finish.
In love with R & D: high-mountain crafts from
Venture Snowboards
Founded in 1999, Venture Snowboards uses Colorado terrain as an endless test-bed for their local, hand-made boards. Creativity and thinking big, paired with epic San Juan Mountain riding out the factory door, all feed the innovative process at Venture. Housed in the rural mountain town of Silverton, CO, Venture offers inspiring events, like Shape Shack, that bring together industry movers and shakers to daydream ways to push the industry envelope. And, while the process is top secret (can't share that special sauce!), their factory showroom offers an exciting peak into the process and high-quality boards for purchase.
Care for the craft, and crafting for care at
Osmia Organics
Sarah Villafranco, founder of Osmia Organics, is all about the craft of care. With a background working in the ER, Villafranco brings deep care to the art of making luxerious, safe, skin-care products from the highest quality ingredients. In Carbondale, the space itself is a laboratory of creation (and visitors are welcome); soap making, laboratory clean-work rooms, retail and packaging are all onsite. Sometimes the crafts are best left to the masters, and, since self-care is a must for any form of inspiration and creativity, stop by Osmia and treat yourself.
Keeping in touch with origins at
Greeley Hat Co
Entering the store in Greeley is to revisit an era of Maker's long-past and newly revived; the remnants of a bygone era decorate the store and line the shelves. Simultaneously hat shop and museum, Greeley Hat Co offers a peek into the past and a glimpse at the present of hat making. These fine-quality hats are all built one at a time, by hands. Find inspiration in the space and the feel of the hats, and then let the masters get to work making a custom-hat you'll cherish for the long haul.
The love of place: Leadville's
Placemark Designs
In so many endeavors, the love of place drives creativity across that state (and beyond). As is the case for Leadville local and Placemark Design gallery owner and artist, Gail Sovick. An artist and educator who is crazy about all things creative, Sovick draws on her love of the outdoors and her fascination with maps to craft unique, mixed-media resin belt buckles and jewelry. Custom orders can celebrate your connection to Colorado, or anywhere you call home.
Whether you'll appreciate the time and care someone put into their craft or creating something of your own, Colorado is the perfect place to celebrate the maker in you.
Colorado is a four-season destination offering unparalleled adventure and recreational pursuits, a thriving arts scene, a rich cultural heritage, flavorful cuisine, and 26 renowned ski areas and resorts. The state's breathtaking scenic landscape boasts natural hot springs, the headwaters of seven major rivers, many peaceful lakes and reservoirs, 11 national parks and monuments and 58 mountain peaks that top 14,000 feet. For more information or a copy of the 2017 Colorado Official State Vacation Guide, visit
www.COLORADO.com
or call 1-800-COLORADO. For the Colorado Heritage & Agritourism ROOTS Guide, visit
http://www.colorado.com/roots
Follow Colorado on
Twitter
,
Facebook
,
Instagram
,
Pinterest
,
Google+
,
Foursquare
,
Flickr
,
Tumblr
and
YouTube
.
Traveloscopy
|