#IPW18
Colorado's history runs as deep as the silver and gold veins that once lured a surge of fortune seekers here during the late-1800's mining boom.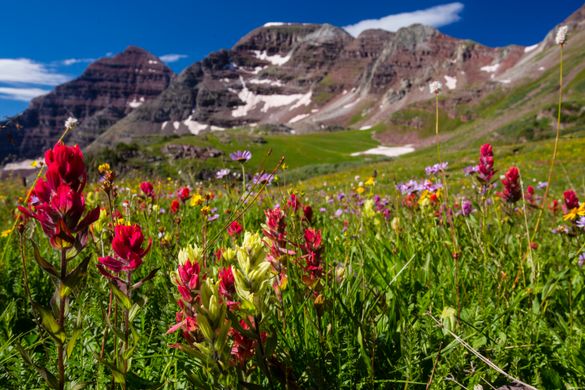 But when those rich resources went bust, dozens of towns were abandoned—leaving behind saloons, mercantiles and other hallmarks of Wild West life. Catch glimpses of this bygone era in the remains of ghost towns tucked amid high peaks and remote wilderness. Though you'll have to drive a portion of the way to these deserted destinations, take an intrepid approach for the final leg.
ATV/OFF-ROAD VEHICLE
Ghost towns in Colorado range from mere ruins to surprisingly intact hamlets—for the latter, venture
St. Elmo
, where a few lingering residents run a general store and a guesthouse. Seek the help of
Buena Vista's
ATV Mountain Adventure Rentals
, which will drop you and your rented ride off trailside (and pick you up later), leaving you to explore the dusty, straight-out-of-a-movie set streets on your own. An ATV also comes in handy for a bonus trip to nearby Tin Cup.
Set your sights on Animas Forks, located high in the San Juan Mountains. Just 12 miles away in
Silverton
,
Rock Pirates Backcountry Adventures
can hook you up with one of its rugged Tomcar OHVs for a bumpy-yet-scenic excursion up the
Alpine Loop Scenic & Historic Byway
. Check out nine remaining structures, including the two-story Duncan House with its impressive bay window.
HIKE
The North Park area is home to
Teller City
, a former silver-mining camp that at one time boasted 27 saloons, hundreds of log cabins and more than 1,500 residents—not too shabby given its dense-forest location. Head southeast of
Walden
to the Teller City Interpretive Site, then hit the .75-mil loop trail that winds arounds scattered remains of cabins and other artifacts.
The high-altitude setting of
Carson
(almost 12,000 feet) makes it all the more rewarding for its views of massive peaks.
Lake City
, situated near the Continental Divide, is your base for this adventure. Hop on the
Alpine Loop Scenic & Historic Byway
to Wager Gulch Trailhead. The moderate-to-difficult hike is a steady, 3.4-mile climb leading through open meadows and aspen stands to the Carson site.
BIKE
Eleven miles south of
Aspen
,
Ashcroft
is one of a few ghost towns that can be visited year-round. But it would be a shame to miss the vivid colors of wildflower season in late summer or fall's brilliant foliage—both ideal times for a two-wheeled ride along Castle Creek Road. Named to the National Register of Historic Places in 1975, Ashcroft is currently maintained by the Aspen Historical Society, and highlights include the still-standing post office, Blue Mirror Saloon and town jail.
Central City
escaped a boom-to-bust fate, but hidden just up the hill is
Nevadaville
, which bustled with some 4,000 people in its heyday. Several original buildings and a few gravesites are left, in addition to the Nevada Lodge No.4, still used by Freemasons for monthly meetings. The route up gravelly County Road 1-S is just over a mile and makes for a nice mountain-bike jaunt.
SNOWSHOE/CROSS-COUNTRY SKI
Wintertime doesn't always mean you can't visit—in fact the scene might have a more ethereal vibe blanketed in snow. South of
Ouray
lies Ironton Park, home to the slumbering remnants of the Ironton townsite. A local group maintains and grooms Nordic trails after fresh snows, including the roughly 2-mile Townsite Loop, which passes by a two-story Victorian house and the Larson Brother's Mine.
Close to Summit County's popular ski resorts is Mayflower Gulch Trail. Go six miles south of
Copper Mountain
to the trailhead, then strap on your showshoes for a four-mile round trip to Boston Mine. Your path follows a gently sloped wagon road through forest before opening up to a bowl peppered with old mining cabins and an ore chute at the base of Fletcher Mountain.
JEEP TOUR
Sometimes it's easier—but no less thrilling—to let the pros take the wheel. Telluride Outside guide service is happy to oblige with its 4WD tours in beefed-up Chevy trucks. The Imogene Pass itinerary departs from
Telluride
toward
Tomboy
on an intermediate road, meaning the tour is suited to all ages, but you'll still get your kicks. Amenities like tennis courts and a bowling alley once graced the area where a collection of collapsed remains and foundations now exist.
Strike out from
Marble
on an expedition to Crystal City, courtesy of Crystal River Jeep Tours. Your guide will navigate the terrain while you enjoy dramatic landscapes. Just before the town entrance is the exceptionally picturesque Crystal Mill, perched above the river. Two shops and a dozen cabins are reminders of the once-thriving community, but a few friendly summer residents also carry on.
PIT STOP: HISTORIC COLORADO WATERING HOLES
Detour from the ghost-town quest and relive the Old West at some of Colorado's oldest places to quench your thirst:
The Centennial State's longest-surviving gold-rush-era business,
Buffalo Rose Saloon
in Golden, got its start as the international Bowling Saloon in 1859.
Though established in 1862, the original building of
The Mint
in Silverthorne has been taken apart and moved three times.
Inside Aspen's historic
Hotel Jerome,
J-Bar has been slinging boozy concoctions to the likes of John Wayne and Hunter S Thompson since 1889.
Not much has changed at the
New Sheridan Bar
in Telluride since its 1895 construction within a hotel of the same name, from the mahogany wood paneling to stiff pours.
Dining and drinking venues have been operating in
The Minturn Saloon's
Vail Valley location since 1901.
*Exercise caution around all sites and be mindful of rapidly changing weather conditions, especially at high altitude. Taking souvenirs is strictly prohibited, but snap all the photos you like.
Traveloscopy
|