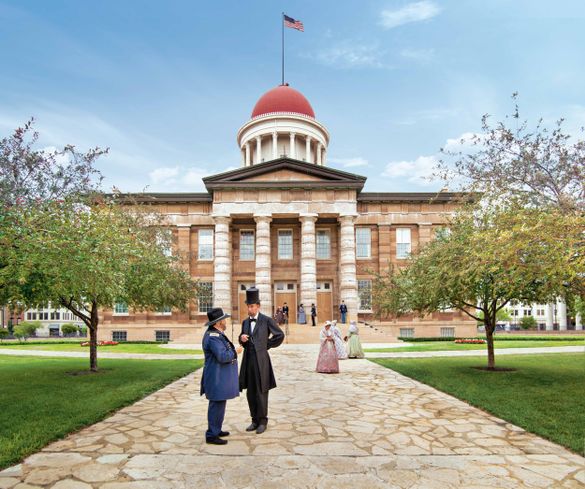 From The Illinois Department of Commerce and Economic Opportunity, Office of Tourism www.enjoyillinois.com
Frank Lloyd Wright Trail – NEW
Introduced in May 2018, the new Frank Lloyd Wright Trail in Illinois is a self-guided architectural adventure featuring 13 Wright-designed buildings open to the public throughout Illinois.
Titanosaur Joins the Field Museum - SPRING 2018
As the Field Museum celebrates its 125th anniversary in 2018, the biggest dinosaur ever discovered – the Titanosaur – makes its debut in late Spring. It would take about 14 Titanosaurs to climb up Willis Tower.
Illinois Bicentennial
Illinois celebrates its 200th Birthday all year long leading up to a birthday bash at the United Center in Chicago on December 3, 2018. A statewide multimedia campaign will celebrate Illinois' influence on the world through music, sports, agriculture, literature, commerce, history, technology, innovation and architecture.
World's Largest Loop Coaster at Six Flags - SPRING 2018
At 100 feet tall, the world's largest loop coaster will open at Six Flags in Gurnee. It will take give riders record hang-time on a gigantic loop before suspending them completely upside down.
Old Joliet Prison – OPENING THIS FALL
Originally built in 1858, the Old Joliet Prison has been the site for several TV and movies, most notably for The Blues Brothers and Untouchables. It is now being reborn as a tourist destination by offering museum history tours beginning in late August and as a haunted house in the fall.
Launching Pad – NOW OPEN
The iconic Launching Pad Drive-In Restaurant on Route 66 in Wilmington, now under new ownership, is home to the famous Gemini Giant and open as a Route 66 welcome center, gift shop and Americana museum. The restaurant will reopen later this year.
Motorheads – OPENING 2018
Situated on Route 66 in Springfield, the state capital, Motorheads is a new restaurant and museum complex devoted to cars, motorcycles and motorsports, with special attention to Route 66 memorabilia.
Chicago Blues Museum – OPENING 2019
As the birthplace of modern blues, The Chicago Blues Experience will celebrate pioneering artists and generations of musicians who have been influenced by the blues and continue to carry on its traditions. Situated near Millennium Park, it will be filled with history-driven interactive displays, tributes to local legends and Chicago blues memorabilia as well as a performance lounge and restaurant.
Hamilton: The Exhibition – OPENING NOVEMBER 2018
Building on the hugely successful musical, "Hamilton," a new attraction designed to tell the story of Alexander Hamilton is debuting only in Chicago. "Hamilton: The Exhibition," is an interactive, one-of-a-kind exhibition that will provide a historical journey into the creation of our country through the lens of one of the Founding Fathers of the United States.
Illinois Governor's Mansion – OPENING JULY 2018
The third-oldest continuously occupied governor's mansion in the U.S. will reopen to the public in summer 2018 after extensive renovations.
Chicago Riverfront – SUMMER AND FALL 2018
The Chicago Riverfront is the place to be this summer and fall. A new Odyssey river cruise glass-topped boat will be coasting down the Chicago River in July, offering upscale dining and entertainment. And beginning in the fall, Art on theMART will employ state-of-the-art projectors to display art on the Merchandise Mart's nearly three-acre Riverwalk wall – the world's largest permanent projection system solely dedicated to art projections.
Saturday Night Live: The Experience
Go Behind the scenes of America's most iconic, comedic television show with Saturday Night Live: The Experience at Chicago's Museum of Broadcast Communications. The SNL Experience allows visitors to become immersed in SNL's creative process by interacting with famous props, sets and costumes from the show.
Swing from the Trees in Illinois
Go off the grid at Ten Acre Tree Houses near historic Nauvoo along the Great River Road or Timber Ridge Outpost and Cabins in the heart of southern Illinois' Shawnee National Forest. These renovated tree houses offer nature lovers a truly green experience with a birds-eye view