#MeetMinneapolis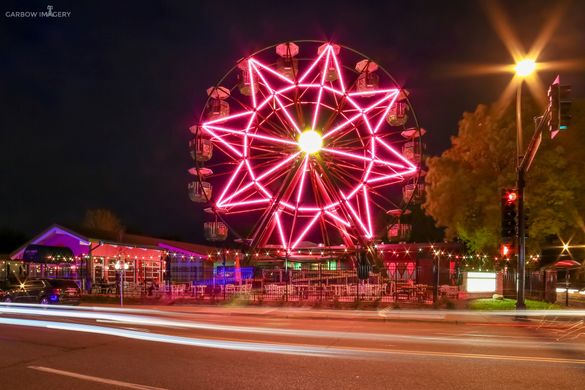 Leisure travel and tourism news from the Bold North
Minneapolis
visitors and residents are fully embracing the springtime with seasonal fun, festivals and enjoying the City by Nature's unique neighborhoods. With this Meet Minneapolis leisure travel round-up, explore Northeast Minneapolis, and plan your festival season as everything new is about getting outdoors, eating or both.
Northeast Minneapolis Brims with Art, Brews and Quirky Fun
Northeast Minneapolis is the oldest neighborhood in Minneapolis and is also the up-and-coming area for new business and residential development. From Nicollet Island on the Mississippi River and a cobblestone Main Street to the Northeast Arts District, "Nordeast" is the place to experience all varieties of art; find craft brews, ciders and distilleries; and enjoy the views from a patio Ferris wheel, a pedal pub or a riverfront tiki bar.
Steeped in History: Settled by Eastern Europeans, you'll still find Kramarczuk's Polish restaurant, delicatessen and bakery on Hennepin Avenue where it's been making sausages for over 60 years. This is also where you'll find the oldest, continuously operating church in the city, Our Lady of Lourdes, which opened in 1877 and still serves traditional French meat pies.
Food Lovers Rejoice: Today, visitors venture to Northeast to eat at foodie hot spots like Young Joni (with James Beard nominated Chef Ann Kim), Bardo and Hai Hai, and enjoy libations at Tattersall Distilling, Dangerous Man Brewing and Sociable Cider Werks, among many others.
An Artists' Haven: Minneapolis' official arts district offers visual and performing arts
Theater Latté Da is a nonprofit professional theater in the Twin Cities that exclusively produces musical theater. The curtain opens on "Underneath the Lintel" at the end of May.
The Northeast Arts District touts a dozen artist buildings with hundreds of working artists who open up their studios every first Thursday and for other events.
Art-a-Whirl is the largest open studio tour in the country. Taking place May 18-20, it will feature artwork from more than 650 artists at more than 50 locations throughout Northeast Minneapolis, including studio buildings, art galleries, homes, storefronts, and local businesses.
Cocktails, a Ferris Wheel and Puppy-friendly Mini-golf: Betty Danger's Country Club has a "vertically revolving patio" (Ferris wheel) and may be the most unique bar in Minneapolis. It also boasts of a new and improved Poodles and Palms Putt and Play Golf Course – a puppy friendly patio course where dogs are welcome to join you as you putt and partake of bites and beverages on each hole.
That barely scratches the surface what's going on in the "biggest underestimated place in the north."
Several other highlights include:
Record 33.3 Million People Visited the Minneapolis Area in 2017: A new studyreleased by Meet Minneapolis, and conducted by DK Shifflet, reveals 33.3 million people visited the Minneapolis/Saint Paul metropolitan area in 2017, breaking the previous year's record. The new research also shows visitor spending increased to a new record level of $7.8 billion. The travel and hospitality industry supports more than 36,000 jobs in Minneapolis.
Dine in the Dark at Mercy: Are you brave enough to eat your way through a five course, private-dining journey without seeing your food or knowing the menu? Mercy staff, using night vision goggles, takes you on an interactive food and beverage experience that's new to Minneapolis. The menu is always different, to reflect what the culinary team finds in peak season. Wine, beer or cocktails are paired with every course.
Food Hall Meets Movie Theater at Mall of America: CMX Market Cinema Experience combines a luxury movie-going experience with a fashionable food hall concept, starting this month, at the nation's largest mall. Plus it will feature an immersive center bar with extensive wine and spirits lists, as well as handcrafted specialty cocktails provided by professional mixologists.
New Specialty Tours Including One for Prince Fans: Experience the Twin Citieswill add three new sightseeing tours to their successful lineup of brewery, winery and food tours. Beginning June 1, the new walking and bus tours include: Minneapolis Riverfront Sightseeing Tour, Minneapolis Landmark Sightseeing Tour and Prince Legacy Tour: Sights & Sounds of Minneapolis. These excursions always include guidance from a local pro and begin at Minneapolis Visitor Information on Nicollet at 5th Street in downtown Minneapolis.
Valleyfair Gets Delirious: Valleyfair amusement park opens for the season on May 11 and will unveil a brand new ride, Delirious. This 70-foot looping thrill ride will coil riders upside-down on a seven story, 360-degree freestanding structure with a high capacity, high speed train. The park is located southwest of Minneapolis in Shakopee, Minn.
This time of year also marks the unofficial start of the summer festival season in Minneapolis. From Art-a-Whirl, Northern Spark and Rock the Garden to the Stone Arch Bridge Festival and Twin Cities Pride, others might think these are special events, but for us it's just how we live. In Minneapolis, festival season never ends.
For more information about what to see and do in Minneapolis, visit
www.minneapolis.org
.
Traveloscopy
|