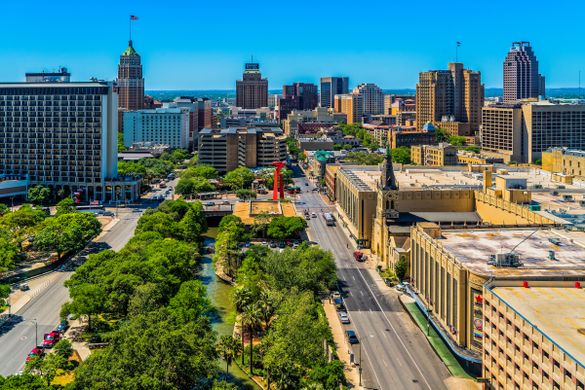 As the seventh-largest city in the nation and one of the fastest growing, San Antonio always has something new and exciting to explore. Here are a few of San Antonio's newest offerings as well as developments on the horizon.
Jump to:
Special Events
Culture & Entertainment
Hotels
Culinary
Major Projects & Neighborhoods
Special Events
Back to top

SAN ANTONIO CELEBRATES 300 YEARS (2018)

2018 marks San Antonio's 300th anniversary, and the city is planning on celebrating all year long with events, activities and initiatives that will carry San Antonio into the next 300 years. Originally a remote settlement next to a serpentine river, San Antonio has been a pinnacle of Texas, U.S. and world history. It is now the seventh-largest city in the United States, attracting more than 34.4 million visitors a year. That quiet river has evolved into the River Walk, one of the country's top tourism destinations, while the area's first Spanish colonial mission, has become the legendary Alamo. San Antonio will host events throughout the year to honor its history, culture and cuisine, with a big focus on Commemorative Week to be held the first week of May 2018. The joy and pride of the city will be harnessed into a week filled with distinctive events to showcase the collective essence of San Antonio.
Culture & Entertainment
Back to top
WONDER WOMAN™ GOLDEN LASSO COASTER COMING TO SIX FLAGS FIESTA TEXAS (MAY 2018)
The world's first single-rail coaster will premiere at Six Flags Fiesta Texas in 2018 as the park completes its DC Super Hero Trilogy of Rides with the first-ever Wonder Woman-themed coaster. WONDER WOMAN™ Golden Lasso will operate on a one-of-a-kind single rail coaster on a visually impressive I-beam no wider than 15.5 inches. This unique new design will give riders open-air, unobstructed view as they twist and turn above the 100-foot quarry walls. As guests enter the ride queue, they will be greeted by a spectacular likeness of Wonder Woman herself and immersed in the story of her life and how she obtained her super powers. Just as Wonder Woman displays super-human strength, agility and combat skills, riders will experience the same heroic feats as they race through a 90-degree drop, overbanked wave turn, zero-g roll and a steep uphill spiral.
TAUMATA RACER AT AQUATICA, SEAWORLD'S WATERPARK™ (MARCH 2018 – NOW OPEN)
Aquatica San Antonio, SeaWorld's Waterpark, has debuted its high-speed racing water slide, Taumata Racer®. Named for a famous hill in New Zealand, Taumata Racer allows riders to zoom downhill head first on foam bodysurfing mats in one of six side-by-side lanes. Taumata Racer launches riders through an entry tunnel featuring a swooping, 180-degree turn, then straightens out to make two additional descents over the 375-foot slide length and a final 55-foot drop in fewer than 10 seconds.
SESAME STREET PARTY PARADE AT SEAWORLD SAN ANTONIO (SUMMER 2018)
This summer, the beloved characters of Sesame Street are bringing a new parade to SeaWorld San Antonio. This colorful, musical show will feature everyone's favorite Sesame Street friends, themed floats, contemporary tunes and show-stopping performances throughout the park's parade route.
FAMILY ADVENTURE GARDEN AT THE SAN ANTONIO BOTANICAL GARDEN (MARCH 2018 – NOW OPEN)
As part of its recent expansion, the San Antonio Botanical Garden opened its new 2.5-acre Family Adventure Garden. With 15 adventure-themed areas carefully designed to encourage nature play and discovery, families can explore bubbling creeks, thundering ridges, beckoning hills, and sandy shores. The Family Adventure Garden offers a universal, multigenerational design so people of all ages and physical abilities can unplug from devices and plug in to nature. It's the latest addition to the Garden's transformational 8-acre expansion much of which opened last Fall, and includes the Mays Family Display Garden, Halsell Welcome Building, H-E-B Discovery Center, The Zachry Foundation Culinary Garden, Goldsbury Foundation Pavilion and CHEF Teaching Kitchen.
SEA LIFE AQUARIUM & LEGOLAND® DISCOVERY CENTER COMING TO SHOPS AT RIVERCENTER (2019)
Two premier family attractions, SEA LIFE Aquarium and LEGOLAND Discovery Center, are scheduled to open in the Shops at Rivercenter in 2019. SEA LIFE is the world's biggest aquarium brand and highlights spectacular displays of diverse marine life. As its stunning centerpiece SEA LIFE San Antonio will feature a tropical ocean tank with a walk-through underwater tunnel, taking visitors on a seamless journey under the sea. LEGOLAND Discovery Center will be the ultimate indoor LEGO® playground and is designed for families with children ages 3 to 10 to play together. The new attraction will offer a range of themed LEGO play areas, creative workshops with LEGO Master Model Builders, exciting LEGO-themed rides, party rooms for birthdays and other celebrations, as well as the popular MINILAND exhibit which will reflect the buildings and skyline of San Antonio.
THE TRANSFORMED WITTE MUSEUM (MARCH 2017 – NOW OPEN)
The Witte Museum has debuted its $100 million, once-in-a-century transformation, bringing more than 170-thousand square feet of renovated and expanded exhibition space to the banks of the San Antonio River. The new Witte offers visitors the Naylor Family Dinosaur Gallery, numerous galleries that explore the story of Texas through art and diverse collections, the H-E-B Body Adventure which helps to increase Health I.Q., and The South Texas Heritage Center, among other historic and cultural attractions on its 10-acre, garden-laden campus.
MORGAN'S WONDERLAND OPENS MORGAN'S INSPIRATION ISLAND (JUNE 2017 – NOW OPEN)
As the world's first ultra-accessible splash park, Morgan's Inspiration Island concentrates on inclusion and inspires guests with special needs to do things previously thought to be impossible. Features include a River Boat Adventure ride with twists and turns over an eighth of a mile through a jungle setting with bird and animal sounds in the background as well as five wheelchair-accessible water play areas that offer a variety of splash elements such as raintrees, falls, pools, geysers, jets, water cannons and tipping buckets.
THE RUSTIC (NOW OPEN)
San Antonio's newest live music venue at The Rim offers a casual atmosphere and a full-service dining experience featuring farm-fresh, homestyle dishes and a Texas-sized selection of wines, spirits and 40 beers on tap. Most nights of the week, visitors can enjoy local, regional or national acts from The Rustic's expansive outdoor patio.
MALA LUNA BRINGS HIP HOP & EDM TO SAN ANTONIO (OCTOBER 2018)
Mala Luna is a two-day hip hop and electronic dance music (EDM) festival that combines national headlining music performers with homegrown musicians, artists and merchants for an exciting cultural experience. In 2017, the festival relocated to Nelson Wolff Stadium on San Antonio's west side to accommodate superstar acts including Future, Lil Wayne, Wiz Khalifa, Migos, and Afrojack. Stay tuned for 2018 lineup announcements.
BOTÁNICA MUSIC & ARTS FESTIVAL (MARCH 3, 2018)
New for 2018, the Botánica Music & Arts Festival featured current and iconic pop, EDM, hip-hop and rock musical acts at the national, regional and local levels. Botánica's fun festival experience is filled with local food and drink, games, activities and arts that celebrate San Antonio's rich culture and progressive energy. The festival's inaugural lineup included mainstream acts Logic, Deftones, Alessia Cara and Lil Yachty. The festival is slated to return in Spring 2019.
LOMA DE VIDA SPA AT LA CANTERA RESORT & SPA
Loma de Vida (Hill of Life) Spa & Wellness is one of the cornerstones of the comprehensive transformation of La Cantera Resort & Spa, part of the Destination Hotels collection. It focuses on complete relaxation, offering holistic, meditative and restorative treatments that blend indigenous Texas elements with complements of European influences. Carved into the hillside with dramatic views of San Antonio's distant cityscape, guests enjoy exceptional spa experiences in serene surroundings.
RUBY CITY (2019)
In May 2017, Linda Pace Foundation broke ground on a new 14,000 square foot art exhibition space on Camp Street. Conceived by Foundation Founder Linda Pace (1945-2007), and designed by preeminent architect Sir David Adjaye, the modern crimson-hued building will transform San Antonio's skyline as it houses the Foundation's growing collection of more than 800 paintings, sculptures, installations, and video works by contemporary artists from around the world. The entire $16 million project is privately funded by Linda Pace Foundation. The building is a part of Linda Pace Foundation's contemporary art center known as Ruby City, which extends from South Flores Street to the San Pedro Creek. Construction is slated for completion in late 2018, timed to coincide with a year's worth of celebrations for San Antonio's 300th birthday. The public opening is planned for early 2019. Admission will be free.
Hotels
Back to top
CANOPY BY HILTON MAKING RIVER WALK DEBUT (2018)
Adding to San Antonio's repertoire of exceptional hotels, Canopy by Hilton is set to make its River Walk debut in time to host visitors for San Antonio's year-long Tricentennial celebration in 2018. The hotel will integrate the Civil War-era Alamo Fish Market building into its 22-story design. Incorporating the building into the hotel is not only an integral element of the authenticity of the Canopy brand, but also maintains an important historic element to the corridor. Canopy San Antonio River Walk will feature more than 3,000 square feet of meeting space, 195 rooms and a restaurant with an outdoor terrace overlooking the River Walk.
THOMPSON HOTEL BRINGS LUXURY DEVELOPMENT TO RIVER WALK ARTS DISTRICT (2019)
Thompson San Antonio Hotel and The Arts Residences, a $116 million mixed-use hotel-condominium tower on the San Antonio River Walk is set to bring luxury living accommodations to the downtown area. The 37,000-plus-square-foot mixed-use development will be across the River Walk from the esteemed Tobin Center for the Performing Arts. This 167-room Thompson Hotel is one of a collection of design-forward, boutique lifestyle hotels and resorts. The development will include The Arts Residences' 66 luxury condominiums atop San Antonio's first Thompson Hotel.
TRU BY HILTON DOWNTOWN SAN ANTONIO OPENING SOON (SPRING 2018)
Tru by Hilton Downtown San Antonio will offer an experience that's vibrant, affordable and young-at-heart. Located just steps from The Alamo and the River Walk, Tru will feature efficient rooms with free WiFi and 55-inch televisions with 150 channels. Guests will enjoy an extensive breakfast bar, as well as gourmet snacks, drinks and beer and wine from the hotel's 24/7 market. While located in a historic building, Tru will offer high-tech perks including digital keys, a social media wall, lobby tablets and free remote printing. Guests can enjoy pool, board games, a fitness center, outdoor pool or a sound-absorbing alcove for reading or quiet time.
GRAND HYATT SAN ANTONIO COMPLETES RENOVATION (MARCH 2018)
Grand Hyatt San Antonio celebrated its 10th anniversary in March 2018 with the completion of a $19 million renovation of guestrooms, meeting spaces, bar, corridors and lobby. Located along the San Antonio River Walk and next to the Henry B. González Convention Center, Grand Hyatt San Antonio offers 1,003 guestrooms including 46 suites, all with new Hyatt Grand beds and ultramodern 55-inch flat-screen televisions. Newly-installed plush indigo carpeting, ivory wall coverings, and warm-wooden tones of teak and birch reflect San Antonio's lush landscape. In the lobby, visitors are greeted by exquisite wall coverings, Italian tile and marble and stylish furniture with easily accessible electric outlets. Grand Hyatt San Antonio's 115,000 square feet of indoor and outdoor meeting space have also received stylish upgrades and have been modernized with advance lighting, state-of-the-art reader boards, and the latest in audio visual technology.
HILTON GARDEN INN SAN ANTONIO DOWNTOWN (MARCH 2018)
Located in the heart of downtown, the new Hilton Garden Inn is within easy walking distance of The Alamo, San Antonio River Walk, the Majestic Theatre, the Henry B. González Convention Center and Market Square. The 125-room property features modern interiors, a 24-hour fitness center, a roof top heated pool overlooking downtown and a restaurant and bar serving breakfast, dinner and room service. Room amenities include complimentary wireless Internet, a refrigerator, microwave and coffee maker. The property also offers 1,700 square feet of flexible meeting space with catering available.
HOTEL VALENCIA'S DRAMATIC RENOVATION (SPRING 2017)
Hotel Valencia Riverwalk is welcoming guests with a dramatic $10-million transformation, the first major renovation in the boutique hotel's 14-year history. Long recognized for its sleek and modern style, Hotel Valencia was transformed by internationally acclaimed architect and designer, Lauren Rotte. The top-to-bottom renovation incorporates warm, rustic woods; elegant ironwork; hand-crafted tiles; and textiles that reflect the design sensibilities of Spanish Colonial style, a perfect nod to San Antonio's storied past. The public spaces on the hotel's second floor received the most dramatic makeover, with a complete reimagining of the former restaurant and bar. In their place is Dorrego's, a stylish restaurant named for the famed Plaza Dorrego in Buenos Aires, where Hotel Valencia's Executive Chef, Anthony Mesa, has developed an innovative new menu that draws inspiration from the rich culinary heritage of Argentina.
EMBASSY SUITES BY HILTON SAN ANTONIO BROOKS HOTEL & SPA (MAY 2017 - NOW OPEN)
Embassy Suites by Hilton San Antonio Brooks Hotel & Spa opened in May 2017 and is located on the site of the former Brooks Air Force Base, which has been redeveloped into a live, work and play community south of downtown San Antonio. The hotel has 156 suites featuring a separate living room with sofa sleeper, a work desk and a wet bar area with mini-fridge, microwave and coffeemaker. The property is also home to regionally-influenced Nineteen17 Restaurant and Bar which offers locally-sourced menu items and a full-service bar and is named after the year the former base originated. The property also has a PureSol full-service spa offering standard spa treatments and a therapeutic salt cave for inhalation therapy. The hotel also has more than 20,000 square feet of meeting and event space and includes multiple meeting rooms for guests. As part of its development, the hotel also restored the historic Hangar 9 building, the oldest wooden aircraft hangar of its kind still standing in its original location. Hangar 9 is currently available for use to the public for business events and special gatherings.
Culinary
Back to top
MAVERICK WHISKEY (Spring 2018)
The legend goes, Samuel Augustus Maverick left a jug of whiskey to be passed around among the heroes who died at the Alamo after being elected to represent San Antonio de Bexar in the new Republic of Texas. Kenneth Maverick's great (x3) grandfather Sam Maverick lived and went on to sign the Texas Declaration of Independence and became The Maverick for which all others were named. The Maverick and Alamo Whiskeys live on. All spirits will be handmade in San Antonio and aged Texas-made Oak barrels in the tradition of the original Alamo WhiskeyTM from 1836. Maverick Whiskey's distillery, tasting saloon and gathering space will be housed in the restored Historic Lockwood Bank Building (1918).
THE CHERRITY BAR (March 2018)
In this special concept, created to give profits away to charity, The Cherrity Bar (named for its position on Cherry Street), was created to consistently support the Tourette Association of America while also supporting a diverse array of non-profit charities. Their mission is to promote awareness of a multitude of conditions, and services offered in the community and to provide financial support for these organizations by toasting them with your favorite beverage of choice in a relaxed, friendly atmosphere where all are welcome. Hand-crafted cocktails by well-known bartenders Jeret Peña and Steven Martín and eats by James Beard-nominated Chef Michael Sohocki are featured at The Ramen Bar at Cherrity Bar.
STILL GOLDEN (March 2018)
This neighborhood bar concept by James Beard-nominated bartender Jeret Peña brings craft cocktails and a laid-back vibe to Grayson Street near Pearl. Chiflada, a San Antonio-inspired food truck by Jessica Vargas with tacos and chorizo burgers, and Fremonti Coffee, a mobile coffee cart, are also added to the mix.
VILLA RICA (February 2018)
Villa Rica is the latest original dining concept by renowned Chef Johnny Hernandez. Hernandez launched Villa Rica in partnership with the Guzman family of Veracruz Mexico, who have three generations of experience operating fine seafood restaurants in Veracruz, Puebla, and Mexico City. The inventive menu boasts a creative variety of tacos, tostadas and ceviches inspired by the coastal cuisines of Veracruz, Baja, Sinaloa, Yucatan and the Pacific. Freshly sourced seafood is brought in daily and all corn tortillas and tostadas are prepared from non-GMO stone ground corn, sourced from Hernandez' locally owned and operated Molino.
MAVERICK (February 2018)
As a Texas brasserie, Maverick features a menu that is classically prepared and uses Texas ingredients when possible—most cooked over a live wood fire. The inventive menu includes rotisserie meats, fire-kissed steaks, shared plates, housemade desserts and pastries. All inspired by French brasserie-style fare. Maverick's curated wine list specializes in wines from France and California: many unique selections at great value. Look for a robust by-the-glass wine menu for more affordable and experimental approach to drinking wine. Maverick's handmade copper bar will feature handcrafted classic cocktails, plus a large selection of Texas beer on tap and the strongest espresso in town. Situated in the historic and artsy neighborhood of Southtown, Maverick is conveniently located within walking distance to downtown San Antonio.
CLEMENTINE (January 2018)
Founded by husband and wife chef duo John and Elise Russ, Clementine is a destination neighborhood American restaurant featuring an influence of southern flavors. The menu is broken down into sections including "Petites" – small items including Hush Puppies with labneh, pickled green tomato, honey and sumac, "Sideboard," – larger sharable plates such as Ricotta Cavatelli with broccoli pesto, pink peppercorns and pecans and garlicky Spinach Mustard greens. The "Platters" section features entrée-style offerings such as Crispy Skin River Trout with fresh bitter greens, soy and sesame oil. Guests can cap off their meal with "The Best Parts" - desserts made by pastry chef and co-owner, Elise Russ, including Cardamom Donuts with coffee ice cream and candied kumquat. Clementine also offers "The Feed Me" – a unique dining experience in which guests leave the decision making up to Chef Russ to create a custom, seasonally influenced menu.
CON SAFOS (January 2018)
Meaning with respect, Con Safos is located in Yanaguana Garden inside the newly developed Hemisfair. It's a family-friendly bar and kitchen that fosters the spirit of San Antonio through art, music, and food. Con Safos was brought to life by a collection of mostly San Antonio natives and friends who wanted to showcase their love of their west side neighborhood roots and the whole city. Riffs on classic Tex-Mex include the Concha Burger, where a classic Mexican sweet bread serves as bun. Beverage offerings range from fresh aguas frescas, agave-wine based frozen margaritas, and a selection of local brews. On any given night, diners can find a variety of entertainment in the park or a live music performance on Con Safos' deck.
RANGE (September 2017)
The newest restaurant from Chef Jason Dady is a modern American chophouse showcasing the bounty of the Texas Hill Country. The menu pays tribute to Texas beef, fresh Gulf seafood and game, including bobwhite quail. An extensive wine list of New and Old World selections, upgraded classic cocktails and local craft beers is also available. Range is the first steakhouse in Dady's restaurant portfolio, including The Bin, Tre Enoteca, Tre Trattoria, Two Bros. BBQ Market and B&D Ice House.
BURGERTECA (December 2017)
Burgerteca is the casual burger restaurant concept developed by renowned Chef Johnny Hernandez. Influenced by Mexican cuisine, Burgerteca is a burger concept that offers custom-made burgers with ingredients and flavors distinct to traditional Mexican food such as chiles, spices, moles and queso served on yeast buns which are baked daily. Burgerteca also includes its own ice cream shop on site as well as a range of local craft beer and spirits, including a creative Mexican rum cocktail program. Burgerteca's décor is inspired by the imaginative and colorful work of Pedro Linares, who created an art form famous in the Oaxaca state in Mexico. The restaurant is located on the River Walk Mission Reach, the eight-mile stretch that provides visitors with a historic view of San Antonio with walking and biking trails.
NONNA OSTERIA
The historic Fairmont Hotel in downtown San Antonio has debuted a new Italian restaurant. Led by Chef Luca Della Casa, Nonna Osteria features Northern Italian cuisine including pasta bolognese and margherita pizza as well as progressive dishes such as octopus, wild boar and fritters with salt cod. The flavors are inspired by recipes passed down through generations of Chef Della Casa's family and encourage relaxing meals with rich conversations.
LA PANADERÍA
La Panadería, a local Mexican bakery known for its variety of artisan breads and pastries and made-from-scratch tortas, soups and salads, has opened its second bakery location downtown. The new flagship location of the bakery and café is 6,000 square-feet and features a "bread lab" where customers can watch production and the fermentation process. Hoping to share their Mexican heritage, José and David Cáceres opened La Panadería in San Antonio in 2014. The bakery, which specializes in handmade bread and pastries inspired by Mexico's Golden Era, or Epoca de Oro, also draws influence from French, Italian and American breadmaking techniques. La Panadería's unique approach to breadmaking includes a 48-hour fermentation process that results in artisan bread and pastries unlike any other.
Major Projects & Neighborhoods
Back to top
NEW ADDITIONS TO PEARL
Long hailed as the home of Pearl Beer, this former brewery from the 1800s has been reimagined into a bustling neighborhood along the San Antonio River Walk. Its mix of reuse and new developments is home to Hotel Emma, the Culinary Institute of America's San Antonio campus, local boutiques, chef-driven restaurants, and a farmers market on Saturday and Sunday. New offerings include The Bottling Department, a food hall featuring five restaurant concepts and a bar area from top local chefs and restauranteurs, Hiatus Spa, as well as new events, culinary celebrations and exciting developments at the Pearl Farmers Market.
HEMISFAIR GETS A FRESH LOOK
A three-phase renovation project will enhance the downtown experience by bringing additional open park space, activities, restaurants, and more to Hemisfair Park, the home of the 1968 World's Fair. The first phase of the project, Yanaguana Garden, is complete and open to the public. It features a 4.1-acre activity play environment designed for all ages and abilities, a splash pad, and Paleteria San Antonio (a place to get Mexican ice pops of all flavors). As the renovation moves forward, Hemisfair visitors will find additional park space with the demolition of the old part of the Henry B. González Convention Center, the opening of Civic Park to celebrate San Antonio's Tricentennial (2018), and the development of Tower Park. The final park layout will feature 18.47 acres of dedicated parkland and amenities including local cafes, restaurants or book stores, residences, local businesses, and more.
SAN PEDRO CREEK IMPROVEMENTS PROJECT (2018)
San Antonio is in the process of transforming the historic San Pedro Creek, heavily utilized during the Spanish colonial era, from a concrete-lined drainage ditch back into a natural creek habitat and world-class linear park. The project will improve the creek's function in flood control, revitalize natural habitat and water quality, and catalyze economic development. This $175 million redevelopment will reflect San Pedro Creek's rich history and create a sense of place by making the two-mile stretch more accessible with hike and bike trails, plus the addition of public art by local and international artists.
BROADWAY CULTURAL CORRIDOR
Just north of downtown, Broadway Street connects many of San Antonio's significant cultural attractions including the San Antonio Museum of Art, The DoSeum, Brackenridge Park, Witte Museum, San Antonio Zoo, Japanese Tea Gardens, San Antonio Botanical Garden and the McNay Art Museum. In addition, revitalization is occurring rapidly on this stretch of Broadway from just north of downtown to Brackenridge Park. The Mosaic apartment building houses SoBro Pizza Co., known for its Neapolitan-style pizza and craft beer selection. Nearby, Brown Coffee Co. was noted by Food Network host Alton Brown as having the "best cup of coffee in the world." JoyRide Cycling Studio offers indoor cycling classes.
SOUTHTOWN'S EMERGENCE
At the southern tip of historic downtown lies Southtown, an eclectic arts district set apart by its intermingling of 1800s German architecture, repurposed warehouses, art galleries and now an alluring culinary scene. Longtime dining favorites such as Taco Haven and the Guenther House are sidling up next to newer eateries such as Southtown Pizzeria, an artisan pizzeria influenced by the owners' time living in an old farmhouse near Florence; and Battalion, a creation from chef Stefan Bowers and restaurateur Andrew Goodman that is housed inside a renovated firehouse offering a menu of indulgent Italian dishes. Another popular Southtown stop is the Liberty Bar, a San Antonio favorite with a made-from-scratch menu that is housed in a hot pink former convent.
TRANSPORTATION VIA VIVA BUS ROUTES
VIVA is a new service line from VIA Metropolitan Transit that takes you to the most-visited sites and attractions in the heart of San Antonio. Three distinct VIVA routes connect riders with historic places, opportunities to learn and discover, classic and contemporary art, and popular dining and entertainment spots. There's something for everyone on VIVA, including stops at the San Antonio Missions World Heritage Site, the Alamo, King William Historic District, Southtown, Downtown, Market Square, the River Walk, Pearl, and the South Broadway corridor.
Media information, photos and video: media.visitsanantonio.com
About Visit San Antonio:
Visit San Antonio is a 501(c)6, and serves as the sales and marketing arm of San Antonio as a leading leisure and meetings destination. San Antonio welcomes 20.9 million overnight leisure visitors annually. Hospitality is one of the top five industries in the city, contributing $13.6 billion into the local economy and employing more than 130,000. More information about Visit San Antonio can be found at
visitsanantonio.com
.
Traveloscopy
|