- Incredible land, sea and air adventures await on six distinct islands -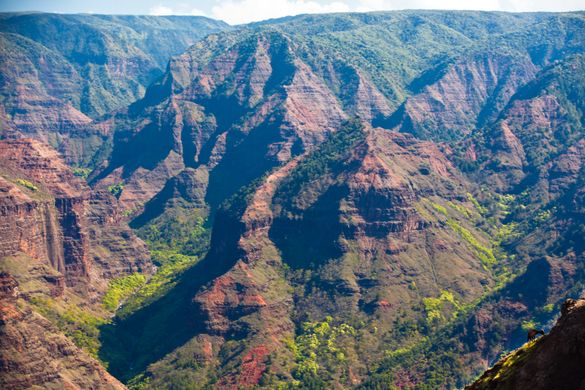 The diversified landscapes of the Hawaiian Islands offer an abundance of opportunities for inspiration and rejuvenation. From witnessing volcanic activity at Hawai'i Volcanoes National Park on the island of Hawai'i and soaking in views of Mount Wai'ale'ale while water tubing through the rainforests of Kaua'i, to viewing the sunrise at the 10,023-foot elevation summit of Haleakalā volcano on Maui and an adventure park experience on O'ahu's west side, a wide-range of exploration and excitement awaits.
Whether you prefer exploring the Islands in the company of clouds, beneath the ocean surface, or somewhere in between, here's a sampling of multiple ways to experience Hawai'i's natural beauty and diversity by land, sea and air.
BY LAND
From tours visiting multiple sites within its 4,000-acre, three-valley expanse that you've likely seen in dozens of blockbuster films and television series, to excursions on ATV, electric bike and horseback, Kualoa Ranch offers a menu of outdoor activities on O''ahu for every type of Hawai'i adventurer.
Polynesian Adventure Tours offers excursions on four islands, exploring the historic sites of Pearl Harbor on O'ahu, the summit of Haleakalā volcano and winding Hāna Highway on Maui, the waterfalls of the Hāmākua Coast and active Kīlauea volcano on the island of Hawai'i, and the verdant Wailuā River and stunning Waimea Canyon on Kaua'i.
Whether you're seeking guided dining, ocean, land or shopping adventures, or just want to pack as much must-see Hawai'i spots into your visit as possible, Roberts Hawaii has tours to match your groove on Kaua'i, O'ahu, Maui and the island of Hawai'i.
Adding to the number of ways visitors can opt to explore century-old Hawai'i Volcanoes National Park on foot is a hike to the surface flow of Kīlauea volcano with a guided tour. But don't miss out on visiting the island of Hawai'i's four other National Park Service-managed parks, sites and trails – Pu'ukoholā Heiau National Historic Site, Pu'uhonua o Hōnaunau National Historical Park, Kaloko-Honokōhau National Historical Park and the Ala Kahakai National Historic Trail. Each has a unique story to tell of its historical importance and role in Hawaiian culture.
From the challenging Kalalau Trail* along the Nāpali Coast to the far mellower nature trails of Waimea Canyon and Kōke'e State Park, with much of Kaua'i inaccessible by automobile, hiking is a great way to see the island's natural splendor up-close.
Avid hikers can book Backroads' Maui and Lāna'i Walking and Hiking Tour. The five-day adventure's diverse hiking terrain, which includes exposed lava rock paths and native-forest trails, will have guests trekking the Hoapili Trail and Waihe'e Ridge Trail on Maui, and the Koloiki Ridge Trail and Naha Trail on Lāna'i.
BY SEA
Explore the sensational sea life and reef-filled waters of Molokini crater, one of Hawai'i's premier snorkeling destinations. Sail Trilogy offers a relaxing catamaran sail from Maui's south shore to the submerged volcanic crater, and an invigorating snorkel tour of its waters, which are among the clearest on the island.
Marvel at majestic waterfalls and hidden valleys while paddling to a blue water reef for snorkeling on a Nāpali Coast adventure with Kayak Kaua'i, which offers adventure activities the whole family can enjoy.
Holokai Adventures' guided He'eia Fishpond Exploration tour offers an authentic, off-the-beaten path Hawaiian cultural activity. The adventure begins with lessons on the basics of kayaking and ocean safety before moving to the water, where participants learn about the modern-day restoration and historic cultural significance of early Hawaiian fishponds. Guides discuss the importance of fishponds like He'eia to the sustainable food gathering efforts of early Hawaiians and how visitors can apply similar thinking to current times.
BY AIR
If there's anywhere on O'ahu you can't see from a hiking trail, rental car or bus tour, chances are good Novictor Helicopters offers a view of it from above. The company's circle island tour includes time above Nu'uanu Pali, the Windward Coast, Kaliuwa'a (aka Sacred) Falls, metro Honolulu and Waikīkī, and North Shore beaches.
Kaua'i Backcountry Adventures' zipline tours may start on land, but they don't stay there long. Visitors looking for an airborne activity will immediately feel the rush as they soar through the air over tropical rainforests, deep valleys and natural watering holes. On O'ahu, the three-hour guided tour at CLIMB Works Keana Farms will have participants soaring above a working agricultural farm nestled between the North Shore's world-famous beaches and lush mountains, all while taking in exquisite panoramic views.
At an elevation of 13,803 feet above sea level, you'll feel as if you're in the realm of the clouds at the summit of Maunakea volcano on the island of Hawai'i. Hawaii Forest and Trail's Maunakea Sunrise Experience takes visitors to Maunakea's summit to experience a predawn sky still alive with stars and planets, and view the morning sun's rise from the east. Post-sunrise, the tour heads back down the mountain to the 9,200-foot elevation Maunakea Visitor Information Station for a light breakfast and brief, guided excursion of the Maunakea silversword plant enclosure.
Paradise Helicopters offers visitors the opportunity to play an active role in the reforestation of Hawai'i's native trees while experiencing some of the Islands' most incredible sights and heli-landing locations. Through the Hawaiian Legacy Reforestation Initiative, guests choose from a menu of nearly 20 available tour options for the sponsorship of koa Legacy Trees. Guests sponsoring the planting of seven koa Legacy Trees receive a half-hour Diamond Head Scenic tour from Paradise Helicopters, departing from its Kalaeloa Airport base operation near Ko Olina Resort on O'ahu. Other sponsorship reward options include North Shore tours, volcano and waterfall adventures on the island of Hawai'i, and a circle-island tour of Lāna'i.
For information on the Hawaiian Islands, please visit
www.gohawaii.com
Traveloscopy
|