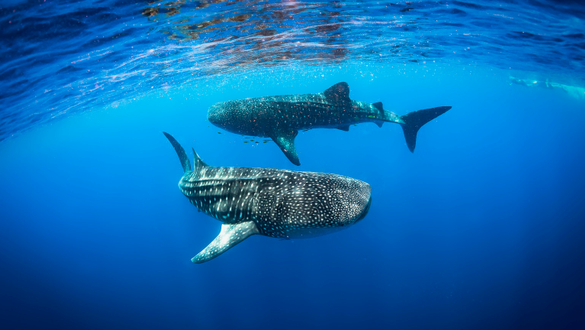 Western Australia is preparing for another successful whale shark season, following sightings of the world's largest fish at Ningaloo Reef in the State's Coral Coast in early March.
More than 29,197 people visited the World Heritage listed Ningaloo Reef in 2017 to swim with the gentle giants of the sea, who migrate to WA shores between March and July each year to feed on plankton and krill.
Adding to the record-breaking year, 2017 saw a total of 1,742 tours take place across the season, with a whale shark sighting success of 94 per cent.
Whale shark swim tours have begun operating from Coral Bay and Exmouth, and will continue through until late June (in Coral Bay) and late July (in Exmouth), allowing visitors the opportunity to have a face-to-fin encounter with the friendly giants – which are around six to 11 metres in length.
Ningaloo Marine Park's nutrient rich waters are considered one of the best places to swim with whale sharks due to reliability of numbers and accessibility to interact with them.
At 300 kilometres long, World Heritage listed Ningaloo Reef is the world's largest fringing reef. Visitors can walk straight off the beach and snorkel in the underwater wonderland teeming with brilliant coloured coral, manta rays, sea turtles and more than 500 species of tropical fish.
The Ningaloo Coast World Heritage Area covers more than 600,000 hectares, with scenic stretches of coastline with towering cliffs, beautiful beaches and plenty of wildlife; and includes the rugged canyons and gorges of the Cape Range National Park to explore.
Exmouth, the northern gateway to Ningaloo, is located 1,250 kilometres north of Perth. Qantas operates direct daily flights from Perth (just under two hours), or visitors can self-drive over two to three days and explore other highlights of WA's Coral Coast such and Geraldton, Kalbarri and Coral Bay.
Exmouth also plays host the annual
Ningaloo Whale Shark Festival
, which celebrates the season with a family festival day, gala cocktail evening, movies under the stars and live music from May 25 to 27, 2018.
Helloworld Travel
are currently offering special deals on whale shark tour, accommodation and holiday packages for Ningaloo, available until March 31, 2018.
For further information on swimming with whale sharks and booking a trip to the Ningaloo coast visit
www.westernaustralia.com
, or
read first-hand
about the experience from local operator Sarah Ellis from
Ningaloo Discovery
.
Note: lead image taken in March 2018 by Michael Wigram at Ningaloo Discovery, a rare sighting of two whale sharks circling each other.
Traveloscopy
|