From the Fairmont Le Chateau Frontenac, the most photographed hotel in the world, , to remote wilderness lodges, travellers to Canada can choose the ideal unique property to complement and enhance their unforgettable Canadian adventure.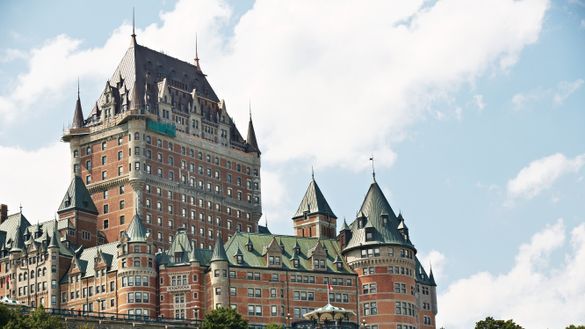 Read on for the top six new Canadian properties for 2019.
Hotel Birks, Montreal
Surrounded by Montreal's finest restaurants and designer boutiques, the historical Birks jewelry building has been restored to its original magnificence and tastefully redesigned to encompass an enchanting old-meets-new style, with its imposing 19th Century columns and intricate ceiling moldings. Hotel Birks is located in the downtown core on St Catherine Street.
Gray Ridge Lodge, Yukon Territory
Disconnect from the world at the beautiful Gray Ridge wilderness lodge in Yukon Territory, 45 minutes from Whitehorse, off the Klondike Highway. Who needs WIFI when you've got lake and mountain views from every window, the shimmering northern lights dancing overhead, and outdoor adventures in every season.
Hyatt House, Winnipeg
Opening in summer 2019, Hyatt House Winnipeg Southwest will offer guests the convenience of hotel living with the comforts of home. The new property is a short drive from the International Airport and the globally acclaimed Assiniboine Park Zoo, boasting the most comprehensive northern species sanctuary in the world, home to polar bears, muskoxen, Arctic fox, wolves and more.
The Josie, British Columbia
The first true ski-in, ski-out hotel to open in Canada in more than a decade, the luxury Josie Hotel at Red Mountain in Rossland, British Columbia, will be open for the 2018/19 ski season. This independently-owned, luxury boutique hotel right at the base of Red Mountain offers 106 stylishly appointed guest rooms, studio suites and one-bedroom suites looking out to catch-your-breath vistas of Canada's winter wonderland.
Nobu Residences, Toronto
Located on dynamic Mercer Street in Toronto, Ontario, Nobu Residences is the brain child of Nobuyuki Matsuhisa, who has extended the elegant Nobu brand far beyond its culinary roots. Academy Award-winning actor, Robert De Niro, invited this illustrious chef to establish a restaurant in NYC over 20 years ago, the eponymous Nobu. By establishing Nobu Residences Toronto just steps from the Toronto International Film Festival, Robert De Niro will be right at home.
Broadleaf Guest Ranch, New Brunswick
Broadleaf Ranch is an 800-acre, family-owned and operated adventure business found deep in the heart of the Bay of Fundy, in the eastern Maritime province of New Brunswick, home to the highest tides in the world. Guests can immerse themselves in the stunning surrounds with horse-back riding, canoeing, biking, hiking, and sleigh rides in the winter months.
Air Canada offers daily direct flights to Vancouver from Sydney and Brisbane, with year-round direct flights from Melbourne available four times per week from 1st December to 4th February, plus connecting flights to the eastern provinces. Direct flights from Sydney to Vancouver are also available on Qantas.
Traveloscopy
|