If Monte Carlo is known as the ultimate destination for hedonistic pleasures, it's no surprise that its annual circus event, the International Monte-Carlo Circus Festival, is the grandest of its kind.
And as spectators arrive for the 38th-annual event between January 16 and 26, 2014, no place puts them closer to the action while remaining in the lap of luxury than the Riviera Marriott Hotel La Porte de Monaco.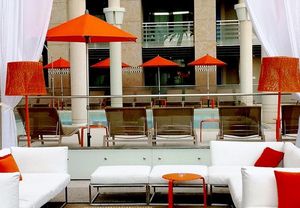 Located along France's Côte d'Azur on the Cap d'Ail harbor, this Monaco hotel is just a five-minute walk from the circus site. Considering the caliber of entertainment lined up, guests will be glad of the easy distance. From animal acts featuring elephants and horses, to top performers from Moscow and China, to the world's fastest magician, Hans Klok, the International Monte-Carlo Circus Festival attracts the best of the best.
H.S.H. Princess Stéphanie of Monaco presides over the event, which was created in 1974 by H.S.H. Prince Rainier III. Today, the Circus Festival is not only a spectacular 10-day show, it is also the time when the industry's most revered prize, the Clown d'Or (Golden Clown) award, is presented.
While the Circus Festival may lure travelers to town, the Riviera Marriott Hotel La Porte de Monaco will make their trip one to remember. Whether guests are looking to experience the luxury of Monte Carlo hotel suites, the convenience of a helicopter transfer between the Nice airport and their hotel or the glamour of a Riviera locale, this property can oblige. As one of the most lavish hotels near Monaco, the property features 171 guest rooms and 15 suites whose balconies overlook the Mediterranean. Plus the hotel's enviable location lets guests create their ideal vacation experience. After recharging in their hotel room near Monte Carlo, a space bedecked with royal blue and wood tones and featuring modern amenities like spacious desks and air-conditioning, guests can explore the surrounding area for a variety of experiences. Whether they bask in the sun along the Mediterranean beaches or raise the stakes at the casino, their vacation is bound to be as spectacular and unforgettable as the 38th-annual International Monte-Carlo Circus Festival itself.